Meet Portsmouth, the most beautiful town in the US
Are you looking for advice on the best way to meet Portsmouth in all its glory? Look no further! Here are some ways to experience its magic.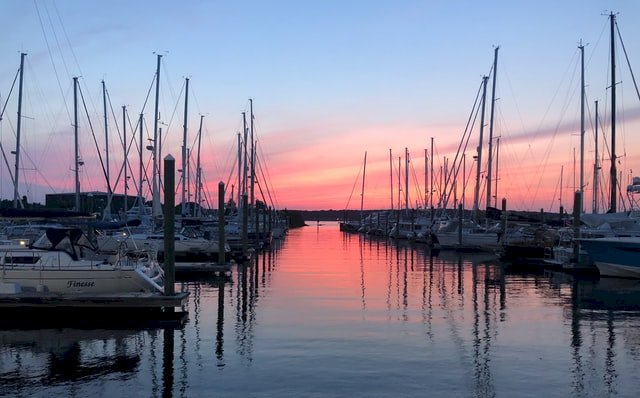 A beautiful port that you'll get to see if you want to meet Portsmouth.
The US has a lot to offer. Seeing how it is a melting pot of multiple cultures from all around the world, it's no wonder that there's something for everyone. However, people who have visited their fair share of US cities and towns are sure to have favorites. Portsmouth might not be the obvious choice if you've never been. However, those that are lucky enough to meet Portsmouth fall in love instantaneously.
Although of all the odd places to visit, meeting Portsmouth might sound like the oddest choice, it's not. Even though it's not a significant landmark, or rather not a famous one, it has a wonderful charm. Whether you're someone who's looking for a new place to settle down or want to visit it, Portsmouth is a fabulous choice. So why is this seemingly insignificant little town so special? Let's dive in.
Nature
If you're used to traveling and like an adventure, the first thing you'll appreciate when in Portsmouth is its breathtaking nature – valleys, mountains, rivers, lakes, beautiful greens, and bright whites. Every season has something different in-store.
Although every season offers its special treats, it's best to visit Portsmouth over the summer. During spring and autumn, rainy days could spoil the experience for some. Summers are nice and warm without the uncomfortable heat waves. However, if you thrive in cold and snowy weather, you could also visit it during winter. Then, it truly looks as if you are walking into a dreamy Christmas movie.
Meet Portsmouth with friends
The best way to experience Portsmouth is to plan a group trip with your friends. You could, of course, stay in one of its hotels. However, the best way to meet and experience Portsmouth in all its glory is by doing as the locals do. Luckily, renting out a place, especially with a couple of friends, shouldn't be too expensive.
What to do in Portsmouth
Even though there's plenty to see, some additional suggestions are always welcome. Consider making a list of all the things that you wish to do while in Portsmouth.
Strawbery Banke Museum
If you want to experience and meet Portsmouth through its rich history, Strawberry Banke is the right place to visit. It's a large outdoor museum, which gives visitors an incredible sense of time traveling. Suitable for all ages, it truly leaves no one indifferent. It doesn't only provide a lot of information, but you also get a chance to immerse yourself completely in the world you're learning about while being entertained.
Prescott Park
If you love nature, Prescott Park will leave you utterly mesmerized. It looks and feels as if you are inside a fairytale. Visiting it during the autumn months will leave you breathless. No words can describe it. You might even be able to catch a wedding ceremony since they're quite common. You will immediately understand why.
Market Square


Market Square is a great place to meet new people and fall in love with this city's pace. You can run along and grab a quick lunch to go or spend hours pondering over nature, weather, people, and the overall atmospheric peacefulness while drinking a delicious coffee.

Many famous houses
Those who enjoy dabbling in history will love the fact that you can meet Portsmouth through its famous buildings. Be it the buildings themselves or their previous owners - these great stories are worth looking into.
Get to know the culture!
The best way to truly get acquainted with a city is through its culture. Although you can visit museums, read about history, and watch all the documentaries in the world, the best way to get to know Portsmouth is to dive right into it. Go out, meet people, eat food, get lost in it, and let it guide you. You won't be disappointed.
Location
Another great characteristic that you'll really get to love is its location. This is particularly true if you're not looking to get briefly acquainted with Portsmouth but move there. It is not just that Portsmouth boasts a great climate. Luckily, it is also located in the seacoast area. This not only gives it incredible sights but many beautiful seafood restaurants that you can enjoy as well.
Moving to Portsmouth
If you've decided to give Portsmouth a try and permanently settle down in it, you're in for a treat. Make sure to plan everything out, from the place of living to your new job. Your biggest concern should be settling in and making sure that your new life is ready to begin. This is why it's best to hire reliable movers to take care of the technical part. Be sure to hire someone that you can truly trust. Companies that share family values and put quality first like preferred-movers.com are surely your best bet.
You live nearby?
If you live close, meeting Portsmouth won't be an issue. The chances are that you've already covered that part. Although this means that your relocation will be a bit easier, it's perfectly fine to have someone of greater experience help out. The great thing is that it's easy to find good local help since Portsmouth is in a rather popular area.
Don't miss a thing
Try not to get too caught up in the dullness and routine of every day. Even though it's a normal occurrence, getting the chance to meet Portsmouth, one of the most magical little towns, is quite a privilege. Don't let it go to waste.