How To Select A Trusted RV Repair Workshop?
Confused about selecting a good RV mechanic. Here are some tips that will help you select a good mechanic to work on your RV.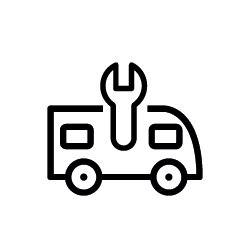 The adventure, freedom and fun on the wheels an RV provides are incomparable. Perhaps, you may start thinking that you can travel anywhere within the country anytime at your will until an issue arises with your RV. And it may be time to call an RV mechanic whether you need a simple inspection or need to address a more pressing repair work. Getting the support of a good RV mechanic can be difficult, especially when you find yourself in an unfamiliar place.
Here, we have come up with vital tips that will help you select a good mechanic to work on your RV.
1. Visit a Certified Repair Shop
RV mechanics who want to excel in their skills get certified. An RV repair shop can earn certifications from prestigious institutions that demonstrate they are up to date on the latest techniques and have an in-depth understanding of fixing mechanical malfunctions and collision repairs. So always ask about the certifications before handing over your RV to the repair shop.
2. Enquire About the Warranty
RV repairs are pricier than your regular four-wheeler, so it is all the more vital to find an RV repair workshop that backs their work. Discovering a trusted RV repair workshop that provides warranties on all their repairs is authentic, and you can be confident about their skills.
3. Know their Experience
Even if you have to shell out a bit more to avail the services of a specialist RV repair workshop who knows everything about working on your rig, it's better than trusting an inexperienced mechanic and paying for it in the long term. And don't give in to the thinking that auto repair workshops know everything about cars so they can work on RVs as well. Recreational vehicles are different creatures altogether with their inner workings.
4. See What Equipment They Are Using
The equipment and tools they use for repairing your rig will uncover the credibility of an RV repair workshop or mechanic. RVs are huge as they can accommodate compact homes on wheels, and so they require specialised equipment to keep them running smoothly. They need to have industry-specific tools such as:
STRSW (Squeeze-Type Resistance Spot Welding)

tool helps the mechanic reproduce a manufacturer's original welds.

3-Dimensional Frame Measuring Machine

helps the mechanic diagnose required repairs, including any serious problems with the rig's frame.
5. Quality Work & Positive Reviews
It is imperative to find an RV service workshop that offers quality work. For that matter, even a smaller RV service workshop can provide you with quality service. If you don't know about the RV service and repair workshop, you can go to the Internet and search for - reliable RV repair workshop near me. It will bring the best-suited options located near you along with customer reviews about their work. These customer reviews will help you choose the business that provides the most positive reviews about their work. Whether a big dealership or a small private garage, you want quality work and service.
6.

Get Help from the RV Community

If your RV breaks down in the middle of your journey, you won't know the best service centres and repair shops available to you. Fortunately, owning an RV makes you a member of a friendly community of recreational vehicles ready to give advice and suggest the most reputable mechanics to you.

The Bottom Line

Regular RV maintenance service is essential to keep your RV running smoothly, which also means whenever you want to embark on a trip, your RV is all set and ready!