How to Maintain Your Evaporative Air Conditioner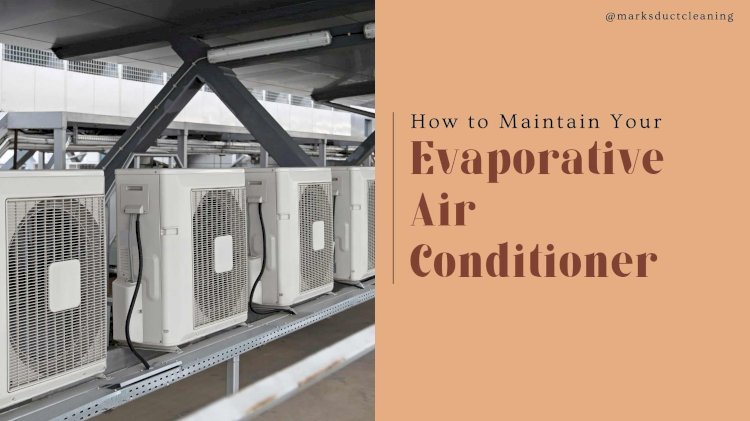 When the summer season arrives everyone starts looking for evaporative air coolers. This air cooler will help you in getting a better cooling experience inside your house. If you are already using one then you need to look after its maintenance. It is very important for you to maintain your evaporative air conditioner. Regular maintenance will keep your air cooler in a good condition with effective cooling performance. There are so many ways to maintain your air cooler to get improved air quality. In some cases, you can also ask professional air duct cleaners to provide a maintenance service.
Guide To Maintain Your Evaporative Air Conditioner
Clean The Air Cooler Properly - At first, you need to clean the air cooler properly. If you do not clean it on time then it will affect the working of the air cooler in a bad way. Cleanliness will remove all the dust and dirt from the air cooler and it will work much better. Always keep in mind to use less amount of detergent in cleaning the cooling system.
Replace The Cooling Pads On Time - The cooling temperature will depend on the pads when it comes to the evaporative air cooler. You need to replace them on time so that you get a better cooling environment. If you have not changed the cooling pads for a longer period of time then the air cooler will not work properly. If you find the pads in broken condition then replace evaporative air conditioning unit immediately.
Cleaning Of Water Tanks - It is also important to clean the water tank on time for better air quality. If you are using the same water for too long then it will start smelling bad. Additionally, if you are getting hard quality water then you need to clean the water tank of your evaporative air cooler.
Keep An Eye On the Water Level - It is also important to maintain an adequate water level in the cooler tank. If you do not maintain the right water level then your evaporative air cooler will not work properly. To get a better cooling temperature you must fill the water tank according to its capacity.
Check the Water Pump - If you don't want to get in trouble then always check the water pump before starting your evaporative air cooler. This pump will maintain the water flow in your air cooler to provide a better cooling temperature. If it is not working properly then you need to replace it.
Inspect It Properly - If you are planning to restart your air cooling system during the summers then inspect it properly. Inspection will help you in knowing the exact condition of the air cooler. If there is any need for replacement then do it immediately.
Shut It Down Properly - At the end of the summer season, you need to shut down the air cooler properly. You have to check whether it is working in a good condition or not. It will be helpful for you to handle the next summer.
Choose Us For The Maintenance Of Your Air Cooler
If you are worried about the maintenance of your evaporative air cooler then contact Marks Duct Cleaning. Our team will help you in the repair and maintenance of your air cooler. You just need to call us to book your appointment with our trained ducted heating cleaning technicians. All our technicians are certified as well as experienced to provide a maintenance service. We are available 365 days to deliver an evaporative air cooler maintenance and repair service. You will get our service at very reasonable prices. We are also using all the advanced tools for maintenance.